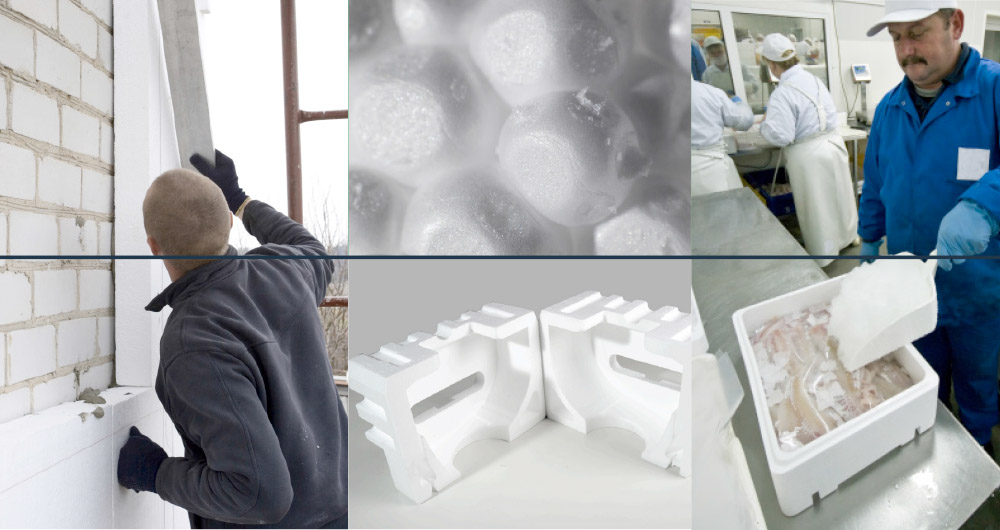 Packing Inserts
Box-type Packs
Composite Mouldings
Roof Construction 
(Flot and pitched Roofs)
Wall construction
Insulating Plasters
Lightweight concrete
Prefabricated systems
Floor construction for sound 
and heat insulation
Dreinage boards
Foundation Engineering
---
STURDY
Polystyrene protects against moisture and maintains its strength and shape even after long periods of time. Containers and lids close tightly, guarding against leaks while maintaining an ideal temperature. Additionally, polystyrene food and meat trays perform extremely well in automated processing equipment.
Polystyrene packaging offers exceptional protection. Its shape can be molded (custom fit) to parts and products, maximizing its excellent cushioning characteristics.
---
EFFICIENT
Only about five percent of a foam package is polystyrene, the rest is air! Polystyrene provides the superior insulating quality that helps hold food at the optimal eating or drinking temperature longer than many alternatives. This helps to guard against waste. Polystyrene maintains hot food at temperatures required by many health departments, yet remains comfortable to hold.  
---
SANITARY
Tests have shown that disposable food service ware (such as polystyrene cups, plates and utensils) is more sanitary than reusable service ware. Health officials, who regulate food service operations in schools, hospitals and restaurants, recognize this important product benefit. In fact, national environmental health officials passed a resolution stating that restricting the use of disposable cups, plates and containers would have a potentially adverse impact on disease prevention.
---
ECONOMICAL
Polystyrene food service products are generally more economical to use than disposable paperboard products and reusable food service items. The wholesale price of polystyrene disposable food service products is often approximately two to three times less than an equivalent disposable paper container, and four to five times less than a comparable reusable food service item when the costs of equipment, labor, water, electricity, and detergent costs are included.
---
CONVENIENT
 Today's busy lifestyles require the convenience of affordable and quick take-out meals. Polystyrene packaging meets the demands of today's modern lifestyles by offering an economical and high quality food service product.